The Eastern Kentucky University men's basketball team were down by as much as 20 points in the first half in Saturday's game against Bellarmine. The Colonels rallied back in the second half to cut the deficit to two with 2:29 left but were unable to complete the comeback and fell to the Knights, 66-61, in Freedom Hall in Louisville.
After missing two games due to medical reasons, Jannson Williams, Curt Lewis and Braxton Beverly would come off the bench to play over 20 minutes each.
"They (Williams, Lewis, Beverly) gave it everything they had.You could tell they were a little sluggish, a little winded…I love how they fought," said EKU head coach A.W. Hamilton after the loss.
EKU were the first on the board as Cooper Robb assisted Michael Wardy's dunk to start the game. The Colonels then went scoreless for 4:43 as Bellarmine jumped out to a 10 point lead and would lead the rest of the way.
A two-pointer, free throw and a 3-pointer by Lewis off the bench would end the EKU drought but was followed by another 5:40 of scoreless play from the Colonels. Bellarmine was able to capitalize and took a 19-point lead, 27-8, with 9:39 left in the half.
EKU would start finding the basket near the end of first half and go on a 12-4 run to bring the gap down to 12 going into the locker room, 41-29. 
Russhard Cruickshank capitalized off a Bellarmine turnover to get a three to start the second half. Shortly after, Wardy used a layup and a dunk to bring the Colonels within five.
"I just said don't quit, keep your head up. These are 40 minute games, not 20 minute games," said Hamilton discussing his halftime message to the team.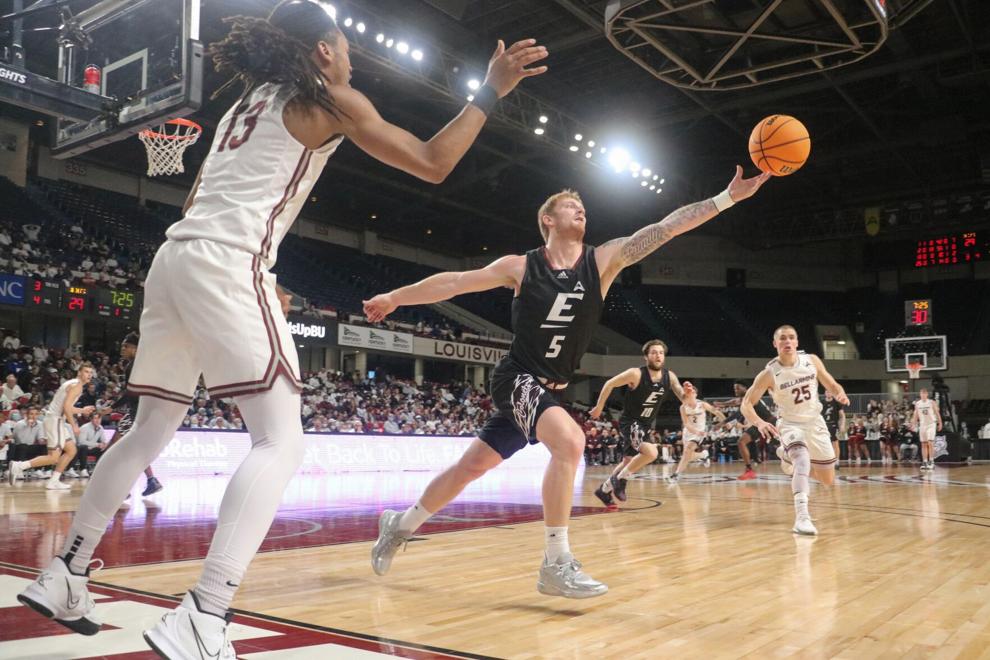 After starting the second half strong, both teams would continue to battle but Bellarmine were able to stretch their lead to 13 using a 10-0 run with 6:57 left to play. Cruickshank, Jomaru Brown, Williams and Devontae Blanton would contribute to a 11-0 run that brought the Colonels within two, 63-61, with 2:22 left to play.
Neither team would score again until the 13 second mark as CJ Fleming was fouled by Brown on a made two-point jumper. Fleming would make the following free throw to secure the victory for the Knights, 66-61.
Williams led EKU in scoring with 15 points. Lewis contributed 12 points and Cruickshank scored 11 points. Bellarmine shot 50% on the game while limiting the Colonels to 38.6%.
After the game, Hamilton's focus was on the fight his team gave to close up the game late on.
"Love the fight, love that we didn't quit. We had our chances down late in the game and the ball just didn't fall in for us," said Hamilton.
The Colonels fall to 8-8 (0-2 ASUN) on the season with their loss to Bellarmine. EKU continues their road-trip looking for their first conference win as they travel to North Alabama on Tuesday. Tip-off is scheduled for 7 p.m.
"We gotta get ready to play, it's a quick turnaround we have to travel. That's the great thing about our league right now where we're playing on Tuesdays, we lose this one, we don't have a lot of time to think about it. Let's regroup, let's go play on Tuesday," said Hamilton.