Infestation and infection: finding mold on campus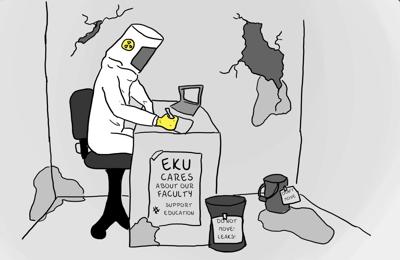 No one knows more than me just how hard mold is on the human body. The house I grew up in was riddled with mold. Infested, even. During my time living there, I came down with serious upper respiratory infections three or four times a year.
Because of this, I still have serious issues with my immune system and permanent damage in my lungs and tonsils. In hindsight, the eeriest part of the experience was that we had no idea why I was always sick. 
My doctors had suggested mold might be the problem, but we never really put any stock to the idea. We didn't see it, so it clearly wasn't there, right? Wrong. While I didn't find out until about a year after I moved out, the place had in fact been an absolute hot zone. 
Mold infestation in an aging single-wide trailer isn't exactly an uncommon phenomenon, nor is it unusual for this kind of thing to be happening on a college campus. If you read our paper or website then you're sure to have seen something about mold in the past few months. It's been a hot topic in the Progress office and our stalwart News Editor Taylor Six has been covering this story for as long as I've known her. 
Recent stories have covered mold infestation and potential mold-related illness. We've talked about it in Beckham, Miller, Keith and Palmer. If you head online, you can read about the nasty effects it's having in Clay, Telford, Burnham and Grand Campus. It's particularly ironic to me that Grand Campus, where people pay almost $4,000 per semester in room and board fees, seems to be getting so many complaints about it. 
We've had several students come forward to talk about it as well. One spoke of a "mysterious substance" growing on her AC unit. Maintenance eventually responded to her report and cleaned it off of the unit. 
Another spoke at length about coming down with respiratory infections multiple times in the two months he lived in Palmer. His symptoms didn't begin to recede until he moved out of the Palmer. Mold was never confirmed to be the deciding factor of his illness.
Bryan Makinen, the executive director of public safety and risk management, was interviewed about the topic in a previous story for the Progress. He wasn't aware of any of the other issues in Palmer, save for a lone incident involving the showers that turned out to be a false alarm. 
Makinen spoke to us at length about the protocol involved with mold detection and cleaning. Ultimately, it comes down to students to find and report mold. It's just an unavoidable thing students have to deal with, but that doesn't make it any less infuriating. 
After the slaughter of the budget cuts and the stupidity of the asset preservation and parking fees, the ongoing mold issue on campus is a spit in the face. Academia can be sliced to ribbons and we can pay outrageous fees in the name of the school's negligence towards its buildings, but our safety isn't a priority. 
Students and faculty alike are both at risk because of this, and the problem only seems to be getting worse. 
If it were an isolated incident, then maybe it wouldn't be as big of a deal, but that's not the case at all. So far cases have been confirmed in several residence halls and the Beckham, Miller, and Keith buildings. That's far from an isolated incident. Whether there's a unifying factor in these outbreaks is yet to be seen.  
Students shouldn't have to investigate their dorm for mold whenever they get sick. Students shouldn't have to worry about their dorm being the cause of them getting sick at all. Whether you're living in Keene or Grand Campus, room and board is expensive. Far too expensive to be getting mold-related illness as a side-effect of living there. 
It shouldn't fall to the students to tell the school that its own buildings are infested. If anything, it should be the other way around. If the risk for mold actually is as high as it seems, then residents should at least be given a warning and be taught how to detect it. Pretending like it isn't there just isn't going to fix the problem. 
All that's to say nothing of the apparent infestations outside of residence halls. It's true that Beckham and other buildings have been cleaned out or are in the midst of that process, but what about the ones that aren't? What if there are other locations that we don't know about? 
Until this problem is effectively dealt with, students and faculty all run the risk of getting sick. It's something that wreaks as much havoc on attendance and grades as it does the human body. 
I spent nearly 20 years living in mold, and I never expected it to be the cause of why I spent so much of my time ill. Obviously it didn't kill me, but it was incredibly detrimental to my overall health and grades. 
It shouldn't be an issue here on campus at all. On the other hand, if it's something the people who attend this university will have to deal with, there are much better ways of going about it. The safety of the students and faculty should be the top priority of the school. And as it stands with this mold issue, safety doesn't look like something the school is concerned with.