An open letter to Governor Matt Bevin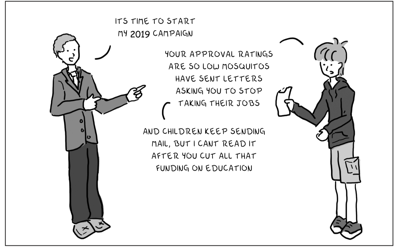 Governor Bevin, 
A new school year is underway, and the dust is settling on a brutal round of budget cuts you implemented earlier this year. Your budget plan for 2018-19 included a 6.25 percent reduction in funds to higher education, a whopping $72 million. 
Because of this, EKU itself was forced to find $25 million in our operating budget. We lost 12 degree programs, two certificates, four minors and three concentrations. EKU was forced to close an entire satellite campus, eliminating an option for higher education that, for many, was the only affordable option. Ninety-six full-time employees lost their jobs. 
Reductions were made to student health services, which is the best healthcare option for many students with little or no health insurance. Reductions were made to some scholarship programs, which made it possible for some students to attend school at all. The athletics department had to cut both the men's and women's tennis teams, meaning that even more students lost their chances for scholarships. In some cases,  a scholarship is an entire ticket to higher education. There was an additional fee of a $150 per student, per semester for "asset preservation," to keep our buildings intact and our campus functional. The university has to pull this money from the students because you have delayed, yet again, funds put aside years ago to maintain our campus and the campuses of many other state universities. Budget cuts have negatively impacted nearly every person at EKU. For some, the cuts have completely ruined a chance at a college degree. 
Your callous disregard for education in general, and specifically higher education, is insulting. In today's society, a bachelor's degree is the minimum requirement for entrance into most fields. For someone who is outspoken against unemployment you don't seem overly concerned with preventing people from meeting a minimum job requirement. 
I do understand that something had to be done. Money had to come from somewhere, we didn't have enough to do it all. The educational system did not need to suffer as much as we have, when funding in other areas is not being properly utilized or used the way you make it seem. For example, one thing that you claim to be a priority is the rehabilitation of prisoners back into society, so that we can lessen the number of incarcerated persons and free up space in our jails, but your budget shows a significant portion going to construction of two more private prisons, rather than to those rehab programs. Why are we building more prisons and tearing down higher education? 
The university has gotten a lot of pushback for the decisions they were forced to make. Majors were cut, people were fired and the EKU community was, rightfully, not happy about it. However, I don't blame the school. They did what they had to with the money they were — or actually, weren't — given. You've made students believe that EKU doesn't care about its students or faculty, when that couldn't be further from the truth. 
I'm sure you've heard the expression "children are our future." While cliché, it does hold true — my generation will one day be charged with moving the world forward, and you just don't seem concerned with giving us the tools we need to do this well. The fact of the matter is Mr. Bevin, that you have to do better—for me, for my school, for our state and for our future.