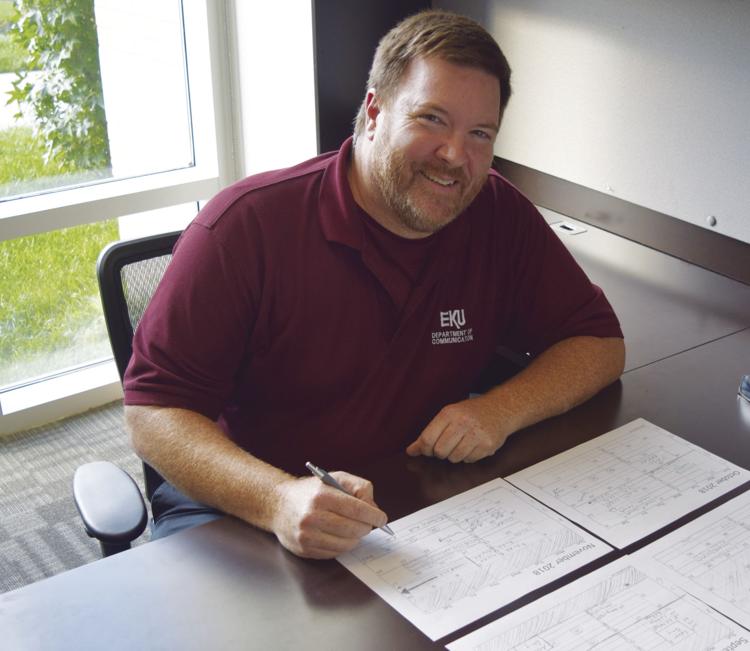 His office is cluttered—mostly with paperwork, but also with several personal items. There are pictures of friends and family, mementos from his time at Auburn University, and some genuine nerd treasures; R2-D2 sits casually on his desk along with the Tardis. There's an engraved plaque on the wall with the 10th Doctor's Sonic Screwdriver from that wonderful David Tennant era of Doctor Who. It's eclectic, which is, fittingly, the best way to describe John Strada in general.
Strada is a well-traveled man.
"I'm from a little of everywhere," he said. His voice was laid back, with a somewhat unplaceable accent.  
Strada was born in New York, but he's done a lot of moving in his time. Oklahoma, Illinois and Louisiana were among the places he lived before arriving in Kentucky in 1998. Despite being born in New York, Strada considers Lexington his home, as he has spent more time there than anywhere else. While he spent several years as part-time faculty at EKU beforehand, Strada began working full-time in the Fall 2006 semester.
Strada is a senior lecturer in the department of communication, and teaches honors courses. This includes classes like CMS 100 and CMS 210. He's also part of the Faculty in Residence program. While this is not a new program, it is new to EKU.
"Basically it's bringing a faculty member to live on campus. You, as a faculty member, is going to go where the students are and be a resource to them. To let them engage faculty off the clock," said Strada.
Student development and success is the main goal of the Faculty in Residence program.
"Student development happens in the classroom and out of the classroom. Through this program I can engage them outside of the classroom, instead of talking in class or my office, I can chat with them at something like a residence hall barbeque. It helps demystify the idea of a professor, it humanizes us. If you can cross that bridge early then you can connect with these students and start educating them and help steer them toward a major that they love," said Strada.
 He went on to speak about how helpful it is to live on campus as a professor. For example, if there is an event happening on campus later in the day, he can attend it more easily. Strada is always in the action, so to speak. The program is as much about building relationships as it is about retaining students and keeping them on the right path to graduate.
Martin Hall is where Strada calls home Monday through Friday. He has an apartment within the building that is essentially the same as the ones used by residence hall coordinators. The situation is nostalgic in a way, as he spent three years living in a residence hall as an undergrad.
"It's different. One of the positives of the program is that I don't have to get up early and fight the traffic, so it's nice to get a little bit of extra sleep. It can feel hard to get away, because you are at work all the time, but in a way, that's what the position is about. I appreciate how respectful all the staff and students have been in giving me my space. The apartment is almost like my little oasis," he said.
While Strada noted that it can be weird being on campus for a week straight, he acknowledged the convenience of literally being able to step outside of his living quarters and be at work.
Strada elaborated on the importance of the Faculty in Residence program by looking back on his own time in school.
"My story isn't unique in the respect that I went a few years as an undergraduate knowing what I wanted to do only to find out that wasn't the case. It ended up being the connections that I had made with faculty members drawing me toward what I do now. They talked to me about education and communication and talked me into taking a few classes. They drew me into what I love," he said.
The kind of relationships the program hopes to create are exactly why Strada is where he is today.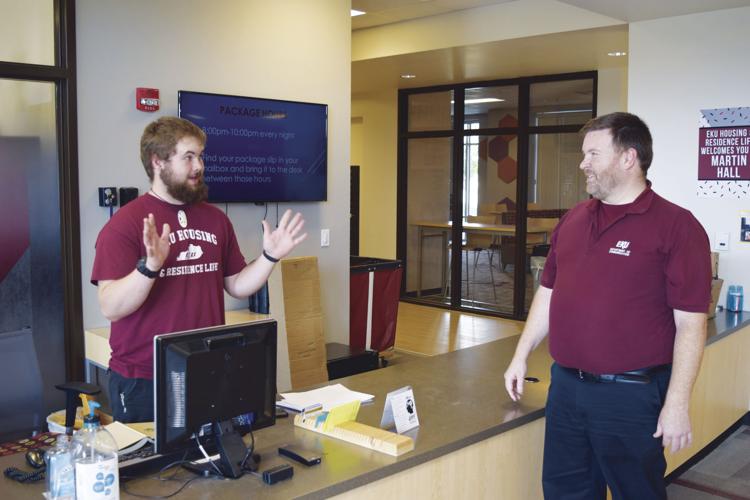 Calvin Andries is a former student of Strada's and an RA in Martin Hall. While he spoke highly of Strada in his capacity as a teacher, Andries seemed especially impressed by what he's already accomplished in the Faculty in Residence program.
"Professor Strada has been doing a great job getting it started. Last week was the first set of speeches for rhetoric this year… a lot of honors freshman were freaking out about their speeches and he sat down here in the lobby from 9 to midnight just meeting with people and helping them with their speeches," said Andries.
The development that takes place in college is all interconnected. Be it through a lecture in class or picking up social and life skills through experiences in the dorms. The prospect of having a faculty member to have a mentoring role outside of the classroom to help move things along is an irresistible one. The advice they give could be anything from studying tips to good places to eat around town, regardless of which direction that advice sits in, it's all of vital importance. John Strada hopes to fill this mentoring role to the best of his ability.       
"College is about taking high schoolers and turning them into job-ready professionals. My own brothers came to school and just sat in their residency halls. They have good jobs now, but they ended up leaving their universities. Get involved. It could be something like marching band or just making friends in your residence hall. But if you get involved on campus, you're more likely to stay and succeed," he said.