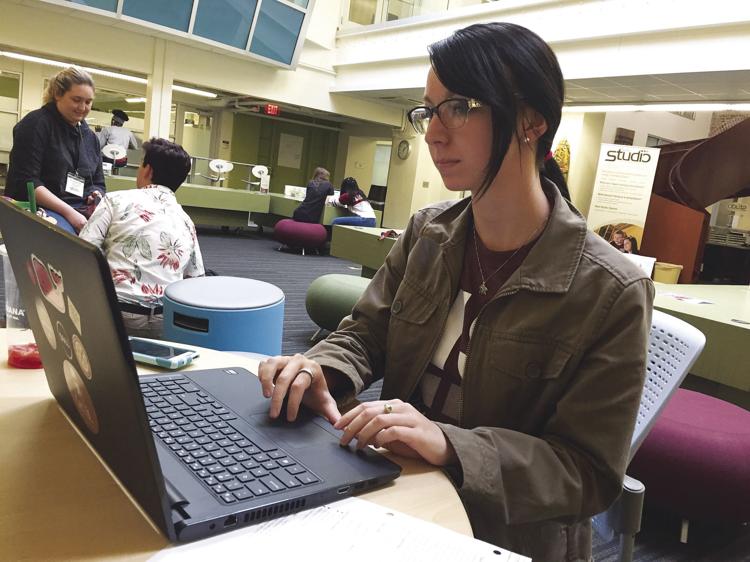 Darian Bianco is a busy woman. She is an English Literature major and second semester Junior here at EKU. All her days are long, as she balances four to five classes with her work as a course embedded consultant at the Noel Studio. Mondays, however, are typically the longest.
"I wake up and start my day around 6 before heading to seminar at 8. From there I rotate between classes and consultations till six in the evening, then dinner afterward. Plus, various breaks for coffee throughout the day," Bianco said. It's a busy schedule, but one that she tackles head on.  
Crestwood sits about 30 minutes outside of Louisville. It's a very small town, but one Bianco has called home all the same. She grew up an only child on her grandfather's cattle farm.
"I spent a lot of time playing by myself as a kid. There weren't any other kids on my road, so I had to use my imagination a lot, but it wasn't all bad," Bianco said.  
Bianco's interest in EKU came from her boyfriend's father, an alumni of the school, who first told her about it. Eventually she got to know the campus, and in her own words, fall in love with it. Since starting here, Bianco has taken on a lot of responsibility. Along with her classes and Noel Studio work, Bianco is the social media coordinator for the English Department at EKU and, notably, a PR rep for Sigma Tau Delta.  
Adrian Bryant is a co-worker of Bianco's at the Noel Studio. Bryant is another course embedded consultant at the Noel Studio. He describes Bianco as someone who truly cares about her work and her students. "When one of her students walks into a room she just lights up", Bryant said.
With a name like Sigma Tau Delta, it can be easy to mistake the organization with a sorority or a frat, but that couldn't be further from the truth. Sigma Tau Delta is the English Honor Society on campus. When Bianco was a Freshman, she was approached to join the group as it had begun falling into a state of disrepair; due to the fact that previous members had started graduating. Along with several other students, Bianco helped form a new board and started pumping life back into Sigma Tau Delta.
"At the moment we're just trying to gain new membership. But we're also planning more events for the fall, and basically just getting our name out there. We're getting the word out about the English department and things that we do here. People need to know that it's more than just books and writing papers all the time," said Bianco.  
This semester Sigma Tau Delta is doing a theme of sorts based on Mary Shelley's iconic novel Frankenstein. The group is planning a possible trip to one of the showings of the Benedict Cumberbatch/Johnny Lee Miller production of the novel's on-stage adaption. It's through events like this that Bianco and company hope to make Sigma Tau Delta a larger on-campus experience. She is resolute in her hopes for the group.
"We want this organization to be more than something that just looks good on a resume. We want it to be something that, when you look back on your college experience, your memories of that group are really cool and memorable," said Bianco
Bianco wants to be a teacher; she feels that her desire to teach is tied in with why she maintains such an active presence on campus, not just her work with Sigma Tau Delta, but with the rest of her considerable workload as well. When pondering the rigors of her schedule, Bianco gave a reason why she stays so busy, "I'm very passionate about English and my field and the fact that I get to do what I love every day; it makes me want to encourage people to realize what they love and to pursue that every single day."