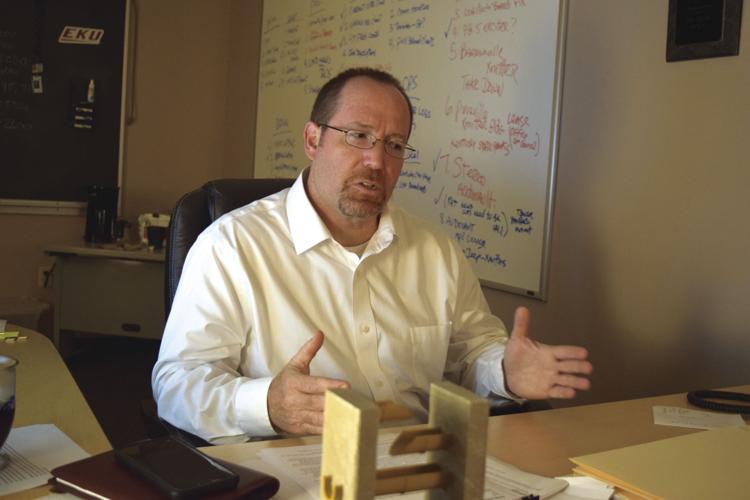 Mike Savage is no stranger to public radio. A highly acclaimed broadcasting veteran of 25 years, he has represented various radio stations across the country and has even been on the NPR board of directors. Now having been named the new general manager for EKU's own WEKU-FM, he has his sights set on making this station one of the top in the country.
Before Savage could get where he is today, however, he was a student at Georgia State University. He started out on a small student run radio station, doing the news during the day and spinning records on the graveyard shift at night. At the time, he had no idea what public radio even was, and hoped to get a job at a classic rock station because that was the "cool" thing to do.
"My advisor said if you want to make copies and bring the DJ coffee, you should go there," said Savage, "but if you really want to learn something you should go to this thing called public radio."
Savage's advisor at the time couldn't have been more right. Early on in his internship on public radio, he found himself in South Georgia to help one of the news reporters at his station cover a story on the effects of tropical storm Alberto. The storm was of similar strength to the recent tropical storm Florence. It generated so much rain that caskets were being unearthed from cemeteries. Savage referred to it as an absolute nightmare.
The nightmare was only beginning for Savage,  however, as he got separated from the news reporter he was working with. Tasked with getting training and gathering sound, it was a trial by fire situation. Despite being on his own, he managed to get sound from a presidential press conference, reconnect with the news reporter he was working with, and record a harrowing report from one of the survivors of the storm.
"He said the water was rising in his house so fast that it got to the point that he was gasping for air at the top of his ceiling standing on a ladder or something, and he had to go onto the roof just to survive," said Savage.
Savage and the reporter later submitted that sound to NPR, who used it in a national story. He even went on to win an award for the best broadcast internship in the country. These events ended up shaping Savage's career and his decision to go forward with public radio.
His career has led him to many different radio stations and positions. While he served on the NPR board of directors, he was the only candidate to ever be petitioned to be elected by other station managers. His most recent position was a four-year stint as the General Manager of Purdue University's WBAA public radio station.
Flashing forward to 2018, Savage is in the process of bringing WEKU-FM closer to his goal of becoming one of the top stations in the country. After working with several other stations who started at the bottom of the totem pole and moved to the top, he is experienced in making that jump.
Making the station more efficient and independent is just the beginning. Savage believes that the key to the success of the station will be producing more local content, such as arts and culture reporting, music programming, feature stories and hosting hour long shows similar to Tom Martin's "Eastern Standard".
"I think it's important that communities have strong public radio stations and not repeat content from another major city," said Savage. "I don't think it would benefit this community to have content from Louisville or Lexington repeated in here because people need to know what's going on at Eastern and Richmond."
Savage went on to say that he was happy to have the opportunity to work at WEKU-FM and build up the program. He believes the station has a very good infrastructure and audience to work with.
Savage also hinted at establishing a direct internship opportunity with EKU's communication department and WEKU-FM. This would give students an opportunity to get real world broadcasting experience and add NPR to their resume. There will also be volunteer and paid student opportunities available at the station. While the internship is still in the works, Savage hopes for it to be in place by spring or fall of the following year.