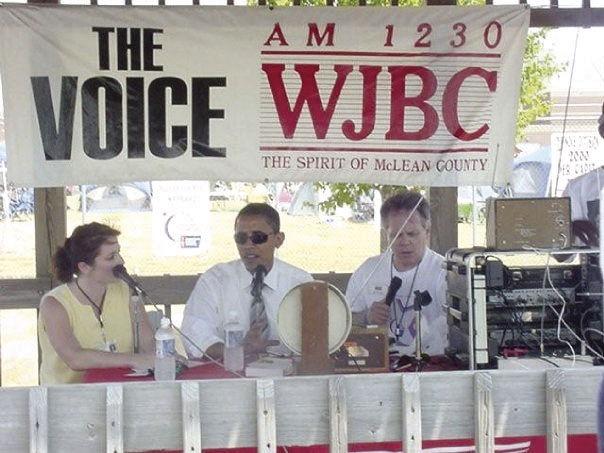 From radio news director and show host, to museum director and now as cultural arts director of a children's museum in Normal, Illinois, Beth Whisman has had a long and unpredictable career.
That career all began as a student in the broadcasting and electronic media major here at EKU. It was during this period in her life that Beth began to take risks. She says she didn't feel challenged enough in her major courses, so she branched out and took things like algebra, physics and even Spanish.
"I'm really glad that I did that," said Whisman. "That kind of ended up being a trend for me, not only in my studies but also in my career - that I stepped outside of my immediate field as much as I could."
After that, Whisman continued to challenge herself. Whisman decided to minor in marketing, which allowed her to gain an understanding in how companies make decisions about selling and how consumers and clients make decisions about buying. Whisman says because of this, she gained  a better understanding of the broadcasting business.
Whisman says she was also heavily encouraged by staff at EKU to get out in the field and start building her resume.
"What I feel like Eastern did best was it taught us that we needed to work as young as we could and that there was value in that experience. We needed to be working to have a professional career, to be able to understand what was expected of us when we graduated, to make the mistakes that we were going to  make inevitably but to do that in that protective atmosphere so that we had something to fall back on; we had professors to give us help and advice, we had colleagues who were experiencing similar things," Whisman said.
At the end of her four years, Whisman was given advice to once again step outside of her comfort zone and to apply to jobs outside of Kentucky. She did so, and ended up moving to Bloomington, Illinois to work at the number one small market radio station in the country at the time, WJBC. Whisman remembers her years at WJBC fondly, and says she loved it.
However, as things in the industry began to change, Whisman felt the need to branch out. However, she ended her time at WJBC on a high note, receiving an Edward R. Murrow award for excellence.
When a local history museum was looking for someone who knew the community and whom the community trusted, they reached out to Whisman, who once again stepped out of her zone and accepted the position. She stayed on for five years and was executive director of the museum for two years.
"It kind of goes back to what I learned at EKU - not to be afraid of trying something new," Whisman said.
After that, she began a new position at the Town of Normal Cultural Arts Department and Children's Discovery Museum in Normal, Illinois. Whisman is still at that museum, and is the cultural arts director. Although this may sound very far from the career she began building, Whisman says that's not the case at all.
"It's different, but it still has a lot of the same communication skills necessary for the job—relationship building, networking, fundraising, marketing, all the things that I kind of was afraid to do. I'm just using my learning in a new way," Whisman said.
    Throughout the years, Whisman's life has taken unexpected turns, but she credits her resilience to EKU. It's because of EKU that she flew for the first time, stepped out of her comfort zone—and continues to do so—and learned the realities of the news industry before she had to do so the hard way, she said.
In her career, she's met former president Barack Obama and followed his career from state senator to president of the United States. She's won numerous awards, covered a variety of stories and learned valuable lessons.
    However, Whisman said that for the industry to continue, the older generation and the younger generation must work together to teach each other the lessons necessary to keep multimedia alive.
    "Understand that your role is to keep us on our toes and [...] make sure that we're not forgetting that change is always happening in our field and that we have to embrace technology;we have to embrace new attitudes," Whisman said.