People say a picture is worth a thousand words. At Deborah Alexander's photograph exhibit, "Surviving War, Building Peace: The Grace of Places," she showcases the story of her lifetime.
The 92-photo exhibit opened Oct. 4 in the Giles Gallery, with Alexander in attendance to tell the story of her work as a diplomat field programmer throughout the world, her life in a war zone and the culture and beauty of other countries.
Alexander, an EKU alum, began her travels her sophomore year at EKU after receiving a Fulbright Scholarship to study abroad in India.
Over 20 years later, Alexander found herself propelled into the Afghanistan war zone after the 9/11 attacks and became one of the longest serving diplomats in Afghanistan, documenting her international travels with snapshots along the way.
"I had a flight scheduled; it's 9:40 a.m. September 11, 2001, and I am going to New York City to speak at the United Nations about the work I had been involved in in Serbia, and as we turned on the T.V. we saw the first plane go into the first tower. So then what happens, by the end of that week, I wasn't going back to the State Department; I was going to Afghanistan," Alexander said.
A lot of Alexander's work was election policies in both Afghanistan and Bosnia. The beginning of the photo collection shows Alexander's electoral work in Afghanistan and depicts the process of Afghan women being able to vote in their first presidential election, after women gained suffrage in the country in 2004.
Several photos show women covered head to toe, including their faces and eyes, to enter their segregated poll stations surrounded by sandbags and barbed wire.
One photo depicted a mother named Jan, who proudly brought her son and three daughters to the voting station to witness women vote for the first time in their history.
"The photos showcase my electoral work and the challenges that come with that. When you vote in New York or Kentucky you don't think about barbed wires and sandbags around the polling place, don't think about if people will lose their life if they vote, their fingers being cut off. You don't think about the fact that people who are illiterate can't read the ballots, so what kind of ballots do you have to design? A long one that has photos in it," Alexander said.
Alexander describes the adjacent wall of photos as, "my life in a war zone" and "military life." The pictures included photos of American and Afghani soldiers, military bases surrounded in dust, sand and fields of opium poppies.
When Alexander went back to Afghanistan for the third time, she was sent to Zabul Province, which she said was similar to her home in Kentucky.
"I would talk to my Afghan colleagues and they would say, 'Miss Deborah why are you going to Zabul, the king doesn't go to Zabul. There's illegal hooch, there's drugs, there's guns…' and I said, 'So, Kentucky,'" Alexander said laughing.
Moving along in the gallery you see "the other side of Afghanistan," as Alexander described it. The wall featured photos with Afghan cave dwellers, families laughing, eating together and the realities of their political climate.
One picture showed two young boys sitting outside in a barren field full of bright orange desk chairs studying. Forty-one percent of all schools in Afghanistan do not have buildings, according to one of the informational placards placed underneath Alexander's photos.
"A lot of times when you think about Afghanistan, you think about [how] it's our longest war, but the people in Afghanistan are like people I've known anywhere else; they love their children, they want clean water and I had the privilege to help with all of those projects," Alexander said.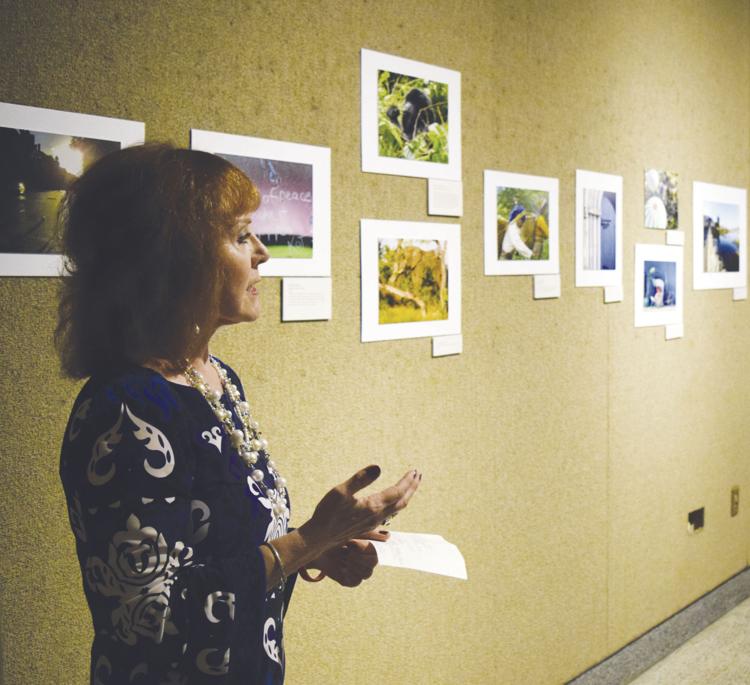 The last wall was adorned with colorful and bright photographs that Alexander said helped her rebound and build resilience after her trauma. Through documenting her experience, the camera lens became a "therapy" and "emotional buffer" for her. Alexander said that through the camera lens she was able to see "a new Afghanistan."
"I did not take photographs of the deaths and sadnesses. I looked for the other parts of Afghanistan," Alexander said. "A camera is the best therapy I never paid for. A camera allows you to see difference. It helped me look for something better and find those bright spots. It allowed me to see beauty, allowed me to sit with a baby gorilla and to find friends that were a lifestay for me."
Alexander's exhibit will be available for viewing until Oct. 25 in the Giles Gallery.