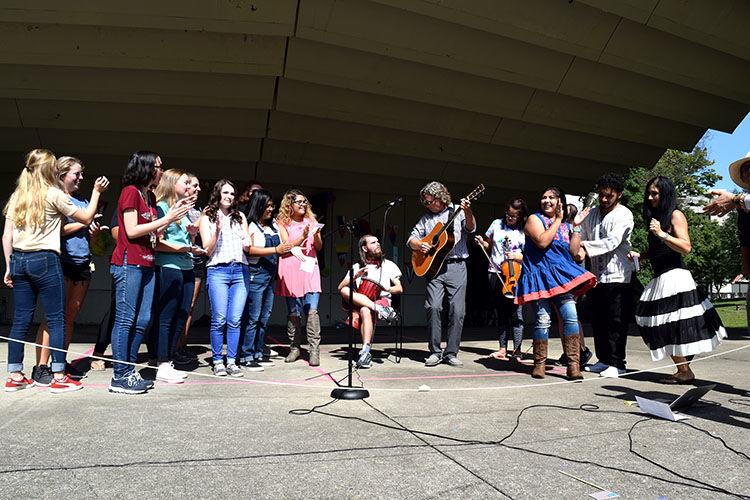 EKU has just finished its annual Latino Heritage Month celebration. Events such as a read-in, a Chautauqua series, a street fair and a panel discussion were all held to pay tribute to  Latino Heritage. But for some faculty and students on campus, this month had a much deeper meaning.
Socorro Zaragoza, an associate professor of Spanish with the department of Language, Cultures, and Humanities, and the Chief Diversity Officer for the College of Letters, Arts, and Social Sciences, said Latino Heritage Month gives EKU an opportunity to celebrate diversity on campus.
"There is always room for learning," Zaragosa said. "In our Spanish classes, they come mainly to learn the language, but with these kind of events, we are immersing those students to taste a little bit of the culture. They can actually feel it, taste it, see it, for one day here."
Zaragoza said for Latino students specifically, the events give them a small piece of home and a stronger feeling of belonging here at EKU.  
Zaragoza also said the events helped students learn about history within the Latino Community and how it relates to EKU. She said the Chautauqua series with Chicano activists, Bobby Verdugo and Yoli Ríos, enlightened students about the LA School Walkouts and segregation of Latinos.
"It is the fiftieth anniversary so it is very relevant," she said. "It is significant because we honor them by naming our peer and tutoring bilingual center in their name."
Along with being an associate professor, Zaragoza is also the Latino Student Association Faculty Advisor. LSA has been an important part of celebrating Latino Heritage Month at EKU.
"I think LSA is more than a student organization," she said. "They have taken a very active role on campus, being advocates for other Latino students."
Zaragoza said the organization has helped minority students strive at EKU. She also said LSA has been an access to higher education for the Latinos on campus and they are very active in the community.
"They are activists, they are leaders here at EKU," she said. "They make EKU a welcoming place for Latino students."
Zaragoza also hoped Latino Heritage Month will help students see the importance of learning other languages.
"I see languages as a tool to compete in this global world," she said.
Zaragoza believes learning a different language makes students more competitive when they graduate, and learning about different cultures makes more well-rounded individuals.
"The classroom is not limited to EKU," said Zaragoza.
Ivonne Gonzalez, a graduate of EKU from Shelbyville, Kentucky, with a degree in Public Health and Spanish, said Latino Heritage Month gives students of all ethnicities a chance to learn about Latino cultures. She said during her time at EKU, she always had fun participating in Latino Heritage Month and continues to participate in the events, even after graduating.
Gonzalez said she hopes the events will help students that are not Hispanic be more aware and respectful of Latino traditions.
"A lot of times, students don't realize the background or history of something," Gonzalez said. "Just being aware that everything has a history and it all has an origin."
Gonzalez was also an active member in LSA. She said participating in the organization gave her a sense of being at home on campus.
"I started to feel more relaxed and a lot more open about my culture and was wanting to educate others," she said. "It's been super eye-opening and beautiful to see the Latino population grow and retention rates grow."
Gonzalez hopes to complete a master's degree in Occupational Therapy and use her skills to work with Spanish speaking individuals in the community.